Autumn Conference: 18/19 November 2021
Thursday 18 & Friday 19 November
Apex Hotel, Bath
Booking for the ADEPT Autumn Conference is open!
As we emerge from the hardest eighteen months most of us can remember, we look up to find even bigger challenges ahead of us. Recovery and climate change will dominate our thinking and determine the future of place for years ahead. Our 2021 Conference will look at tackling climate change, meeting the funding challenge and supporting recovery in a series of plenary and workshop sessions. You can see the draft programme here – please note this is subject to change. The speaker line up includes Professor Marmot from the Institute of Health Equity; the Baroness Brown of Cambridge; Natalie Prosser, CEO of the Office for Environmental Protection and Simon Gallagher, Director of Planning at MHCLG. 
Book your place here.
Note on Covid safety measures
Enhanced cleaning is still in place at the venue, with extra attention paid to high frequency touchpoints, and hand sanitiser provided for guests.
We will be asking all delegates to provide proof of full vaccination or a negative lateral flow test prior to attending.
---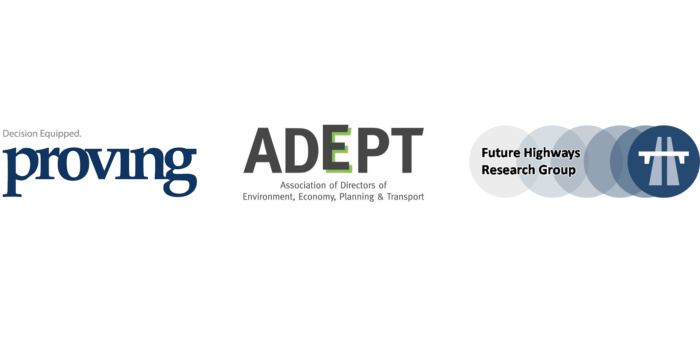 Proving Services/FHRG Innovation Conference
Thursday 21st October, 9:30am-1:30pm
This virtual conference will focus on climate change and the path to net zero carbon. We will present the draft release of GHG Scope 1 & 2 Guidance, with a comprehensive assessment of progress and learning from the FHRG working group and our research partners. Research proposals for developing GHG Scope 3 Guidance and the Carbon Zero Highways: Future Options programme will also be discussed and debated by members in interactive, member-led sessions.
---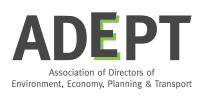 CIPFA/ADEPT webinar POSTPONED - INFORMATION TO FOLLOW
Measuring a local authority's carbon footprint to help deliver climate action plans
 
How can councils understand and measure their carbon footprint so that they can plan and prioritise actions to reduce their most significant sources of emissions? What lessons can they learn from wider sustainability reporting across the public sector internationally?
 
This webinar will be of interest to Chief Financial Officers and Place Directors and their teams, with speakers from:
CIPFA spokesperson – climate accountability and public sector sustainability reporting
Rachel Toresen-Owuor, Programme Director at Local Partnerships –introducing the greenhouse gas accounting tool to calculate a council's carbon baseline and monitor progress towards reducing emissions
Ariane Crampton, Head of Carbon Reduction at Wiltshire Council – case study explaining how to use the tool effectively to help deliver its climate action plan
Lunch & Learn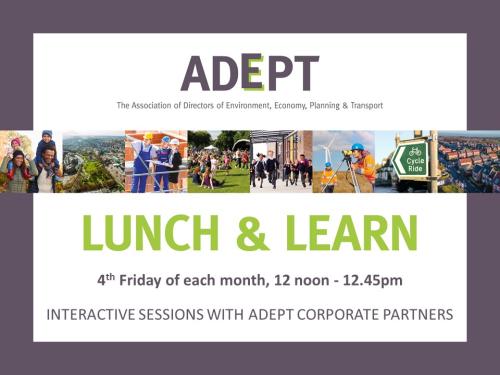 Lunch & Learn sessions take place on the 4th Friday of each month 12pm-12.45pm. Each Lunch & Learn is hosted by one of ADEPT's corporate partners. Get to know our members and partners better and learn about new innovations and opportunities. 
These sessions are for ADEPT members only. Please register using the link below - non-members will not be admitted.
22nd October: Lunch & Learn with Jean Lefebvre UK and Eurovia 
Tackling the Climate Challenge from the ground up - understanding the potential impacts and opportunities associated with our highways
We know we cannot continue doing the same thing and expecting better carbon and environmental outcomes. The first ADEPT Lunch and Learn session explored the scale and pace of change required to decarbonise the UK's transport network, with some frightening data. This session will explore the practical transformation in thinking and actions we need around management of our highway networks to get anywhere near the scale of change needed to deliver on our collective climate emergency aspirations. The highway network is a Local Authority's most valuable asset. This session will help us to understand the change that must be made in how the materials we put into and onto our roads, and the way in which we manage these, will impact on carbon outputs.
Presenters:
Jonathan Core is Technical Director at Jean Lefevbre UK (JLUK). JLUK deliver technical, product development and asset management services to Local Authority clients. With his in-depth knowledge of UK highway network assets, and access to an international technical network, Jonathan will explain the challenges, and best approaches to reducing our carbon and environmental impacts now, through the materials selection and management choices we make today.
Paul Goosey is Managing Director of Eurovia's production businesses. Paul combines Jonathan's technical knowledge with an in-depth understanding of the practical reality of supplying and developing our highway infrastructure in the UK. He will complete the story with a view from the ground in terms of how the UK's production facilities can support change, and the scale of investment in delivering this.
 26th November: Lunch & Learn with Colas
More information coming soon 
---
 Live Labs Expo: Weds 1st Dec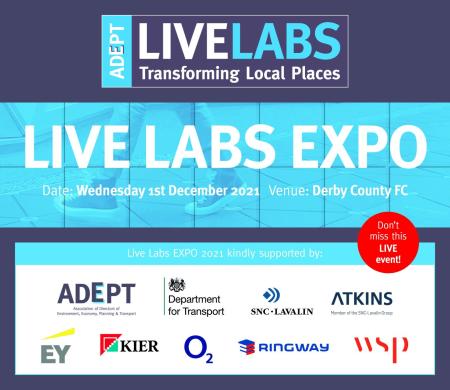 ADEPT SMART Places Live Labs Expo
Wednesday 1st December
Derby County Football Club
The long-awaited Live Labs Expo is finally happening!
Learn about the ADEPT SMART Places Live Labs programme.
Meet the Live Labs teams and their partners and the local businesses delivering Live Labs technologies.
Find out how big data can reshape highways asset management.
Find out how partnerships between local authorities and business are driving the adoption of new technologies across local roads.
This event is free to all attendees. Thanks to our supporters: DfT, Atkins, Kier, Ringway, EY, O2 and WSP. The draft programme is here.
---
ADEPT Spring Conference and Annual President's Awards Dinner SAVE THE DATE!
Thursday 26th May 2022
County Hall and One Whitehall Place