LGC Climate Change 2020 
ADEPT is pleased to be a partner of LGC Climate Change 2020, which will now be a virtual event, taking place on two half days on 17 and 18 September 2020.
The Covid-19 pandemic has inevitably been the main focus for us all over the last few months, but the climate emergency has not gone away. Holding the event virtually enables delegates to take part in the event from the convenience of your own home or office, with no impact on your carbon footprint. You can either participate in the sessions live or catch up later on demand.
For more information and to book your place click here.
ADEPT National Traffic Managers' Virtual Conference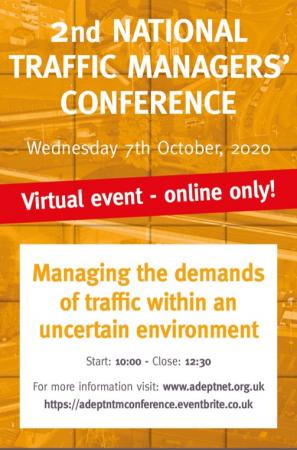 With social distancing restrictions ongoing into autumn it has been decided that the 2nd National Traffic Managers' Conference will be held as an online event.

This year's topic is Managing the demands of traffic within an uncertain environment and we will be discussing ash tree dieback, road safety issues and the decarbonisation of transport, plus there will be an update from DfT; see the full agenda here.

Book your place via our Eventbrite page here.

A full conference will be held in Spring 2021 - details will be released soon. If you are interested in a sponsorship or exhibition package for next year's conference please see details here.
ADEPT Autumn Conference
For this year's Autumn Conference we will be returning to the beautiful historic city of Bath on 5th and 6th November.
Place Directors and their strategic partners have a key role in driving and supporting places to recover and renew from the COVID-19 pandemic. The ADEPT Autumn Conference will give time and space for reflection.
There are lessons to be learnt from the crisis, including looking at a new approach to commuting and working from home, how effectively we have responded to a long-term emergency, how we deal with the largest economic crisis since the Great Depression, and what does it all mean for tackling climate change?
As well as reflecting on the lessons learnt, we will consider and develop our strategies to drive the recovery and renewal of our localities.
Two themes will underpin the conference – tackling climate change and meeting the funding challenge – which will be reflected in the plenary sessions. You can see the full conference programme here.
We have already secured fantastic speakers from DfT, the Behavioural Insights Team, EY, University of Oxford, Odgers Berndtson, MIND and Confederation of Passenger Transport. Baroness Vere will attend the conference dinner and present the President's Annual Awards.
In light of the ongoing situation with COVID-19, we have been working with the venue to ensure we meet the All Secure Standard measures in regard to social distancing and hygiene (detailed guidance here). In addition, this year's conference will also be our first ever hybrid event, welcoming delegates in person and via virtual platforms. 
Book your place at the conference here.
Due to the cancellation of this year's Spring Conference this event will now include the Annual President's Awards dinner. Entrance to the awards remains open, with a new deadline for submissions of Friday 2 October. You can find out more information and download an entry form here. 
Live Labs Expo
The very first Live Labs Expo has been confirmed and will take place on Wednesday 2 December at Derby County FC, Pride Park, Derby.
More information on the expo, including how to reserve your place, will be available soon.
If you would like to find out about sponsorship and exhibiting opportunities please email [email protected].